Still in shock, though joining the thousands of ordinary, free thinking Russians who paid tribute to Nemtsov today in Moscow at the memorial march, helps….
Various interesting pieces in the English language press:
This from the Sunday Times, a comment by Ed Lucas, who was once a Moscow correspondent for The Economist:

My friend charted the looting of a nation; his death is a warning to all Russians
Politkovskaya
BRAVERY, charm, humour and honesty are admirable qualities. But in Vladimir Putin's Russia they mean political oblivion and — in the case of Boris Nemtsov — death.
Nemtsov was my closest friend in Russian politics. I had known him since the late 1990s when he was trying vainly to stem the sleaze and authoritarianism that eventually brought Putin and his ex-KGB cronies to power.
Unlike some Russian liberals, Nemtsov saw through Putin from the beginning. He disliked the new leader's background as an unrepentant KGB officer, and worried about his murky years spent in the city administration of gangster-ridden St Petersburg.
He decried the political bargain that the new regime offered as sinister and misleading: Russians craved stability but it should not come at the price of ending political pluralism.
As the regime tightened its grip on the electoral system, Nemtsov and other liberals were excluded from public life. He turned to protests and to investigating corruption and incompetence.
Together with Vladimir Milov, a former energy minister, Boris produced a series of devastating reports showing how the country's natural-resource riches — oil, gas, minerals — were being stolen and squandered.
Russia's dismal network of paved roads, he showed in a 2008 publication called "Putin — the results", had shrunk since the Boris Yeltsin era, while huge sums disappeared into the pockets of contractors and politicians.
Getting the message of waste and sleaze across was a hard slog — he had no access to the mainstream television channels that shape public opinion in Russia. Undaunted, he turned to the Russian-language services of foreign broadcasters, and to the remaining fragments of the independent media at home.
He travelled the western security conference circuit, urging policy wonks, spooks, politicians and officials to pay more attention to the direction of events in Russia. If truth could be told, he believed, the Putin regime would surely crumble.
The last time I saw him he had an urgent request: could I put him in touch with Swiss financial intelligence? He was investigating another money trail — as I recall involving corrupt construction contracts surrounding the Sochi Olympics — and he was incensed by the role that western bankers, lawyers and accountants were playing in facilitating the looting of Russia.
As an ardent westerniser, who believed Russia's ultimate destiny was as a modern European country rooted in liberty and legality, he was horrified by the way that supposedly respectable western countries and companies collaborated with the Putin regime.
For all his bravery, he was a fading star in a declining part of the political spectrum. The state propaganda machine has demonised the opposition — equating it with the chaos, humiliation and corruption of the Yeltsin years. In this paranoid and hysterical world, liberal politicians' ties with the West are tantamount to treason.
Nemtsov was unrepentant about those ties, just as he was forthright in his condemnation of the war in Ukraine and the seizure of Crimea. Both causes are highly popular in Russia where they are portrayed as crusades against historical injustice, resurgent fascism and western interference.
Doubtless many thousands will rally today to mark his death. But the real message of the murder will be to cow Russians, not drive them to greater resistance to the regime. Just as the murder in 2006 of Anna Politkovskaya, the campaigning journalist, chilled the hearts of my media colleagues in Moscow, and the poisoning in London of Alexander Litvinenko, also in 2006, showed that fleeing abroad offered no safety, the killing of Nemtsov shows that fame is no protection, even for someone who was in truth only a marginal threat.
The way the regime deals with these murders adds an extra degree of horror. Take the case of Sergei Magnitsky, a tax lawyer who uncovered a £150m fraud by corrupt officials against the Russian state. He was arrested for pursuing the investigation, kept in abominable conditions until he became agonisingly ill — and then beaten to death. Those involved have been promoted, not punished, and Magnitsky himself has, in a grotesque twist, been prosecuted posthumously.
So the announcement that Putin will take "personal charge" of the Nemtsov investigation adds a macabre note of insult to his tragedy. If the regime was as shocked as it claims to be, it would ask international investigators to take part. The news that officials began their investigation by ransacking Nemtsov's home gives an idea of what nonsense awaits his friends and family.
The Kremlin propaganda machine is already spinning a different story of the killing on social media. Far from being a hit by the regime or its hangers on, they argue, the culprit is the West because the murder will make the Russian authorities look bad — and the clear beneficiaries must surely be the opposition and their foreign paymasters. This is the same twisted thinking that claims that the Ukrainians (or perhaps the CIA) shot down the MH17 airliner over Ukraine last year.
Sadly the murder does not make the regime look bad (it looked bad already). It makes it look even more ruthless.
The Putin regime uses force against opponents, whether by murdering, beating or abducting them as individuals, or invading them as countries. It dresses up its actions in phoney legalism, and surrounds them with a blizzard of blustering, mendacious propaganda.
It uses its grip on power as a means to colossal self-enrichment, and it uses that wealth to bribe and subvert the West. This is bad for Russia and a grave threat to us. Nemtsov explained this all, with wit, insight and courage.
We did not listen. Now he is dead. What will we do?
Edward Lucas is the author of The New Cold War: Putin's Threat to Russia and the West, and Deception: Spies, Lies and How Russia Dupes the West
And this by current Sunday Times Moscow correspondent, Mark Franchetti:

Slain Putin critic was to reveal war secrets
Boris Nemtsov was poised to embarrass the Kremlin by exposing its role in Ukraine, says Mark Franchetti in Moscow
Boris Nemtsov at a demonstration in Moscow in 2011 (Kirill Kudryavtsev)
BORIS NEMTSOV, the Russian opposition leader shot dead as he walked near the Kremlin, revealed in one of his last interviews his 86-year-old mother had begged him to stop criticising President Vladimir Putin for fear he would be killed.
Thousands of Muscovites laid flowers and lit candles yesterday on a bridge near Red Square on which Nemtsov, 55, was gunned down on Friday night after he walked home after dinner with Anna Duritskaya, 23, his Ukrainian model girlfriend.
Nemtsov collapsed in a pool of blood after he was hit in the back by four of seven bullets fired from a white Lada. The car, which had number plates from the volatile Ingushetia region of the north Caucasus, was later found. Its owner claimed it had been stolen.
Television reports show the car from which the shots were fired
Hours after the mafia-style hit — which drew international condemnation and plunged Russia's beleaguered opposition into deep shock — it emerged Nemtsov had received numerous death threats over his criticism of the Kremlin's covert war in Ukraine.
Dmitry Peskov, Putin's spokesman, angered opposition politicians by claiming the killing looked like a "provocation" meant to discredit the president. Official media speculated it might have been due to a financial dispute or, somewhat implausibly, to Islamic fundamentalists.
In an interview with a Russian magazine last month. Nemtsov said: "Every time I call my mother she asks me, 'When are you going to stop bashing Putin, he's going to have you killed'. She honestly fears I could get whacked in the very near future."
Asked whether he shared his mother's concerns, Nemtsov replied: "Yes I do, a little . . . but if I was very scared of Putin, I would not do what I do." Vadim Prokhorov, the politician's lawyer, said Nemtsov, who was preparing a report exposing the Kremlin's covert military involvement in Ukraine, had turned to police after receiving anonymous death threats on social media, but authorities had done nothing to investigate them. "Soon I'll kill you," read one.
"It began a few months ago," said Prokhorov. "I have no doubts whatsoever that his murder is connected to his political activity. He had no business interests and no problems in his private life."
Nemtsov's girlfriend Anna Duritskaya, who was walking with him when he was killed
During an interview four hours before his murder with Echo Moscow, an opposition radio station, Nemtsov asked Alexi Nemtsov, its editor-in -chief: "Aren't you scared that they will kill you for allowing me on air?"
Nemtsov's killing came ahead of an opposition protest at the war in Ukraine that he had been due to lead today. The march had been initiated by Alexei Navalny, Russia's most prominent opposition figure.
After he was jailed for two weeks for handing out leaflets promoting the event, Nemtsov became its main organiser.
"He [Nemtsov] came to see me in jail two days ago," wrote Navalny. "He was his usual self, full of energy, love of life and plans. He charmed the prison guards and explained to them why they should support the protest march. It's a terrible tragedy and loss for everyone."
The demonstration has now been postponed. The opposition plans instead to hold a march in memory of the murdered politician.
Nemtsov, a dashing figure known for his good humour, larger-than-life character and love of glamorous women, had been scathing of Putin's seizure of Crimea a year ago and subsequent attempts to destabilise eastern Ukraine.
Ilya Yashin, a fellow opposition member, said Nemtsov intended his report, entitled Putin and War, to provide proof the Russian military had been meddling in the conflict.
"He said he had documents proving this involvement," Yashin said. "He was sorting through them and was planning on making them public in his report in a month."
Duritskaya, who escaped unscathed from the attack, was being questioned by the police for any light she could shed on her boyfriend's murder.
The Russian government denied any involvement in the killing, and Putin vowed to do everything possible to bring those responsible to justice.
In a telegram to Nemtsov's mother, he said: "We will do everything to ensure that the perpetrators of this vile and cynical crime and those who stand behind them are properly punished."
Mourners in Moscow lay flowers at the site of the killing
Opposition figures were not convinced; even if the Kremlin did not have a direct hand in the killing, it was to blame for creating a feverish nationalist atmosphere in which those who challenged the official line became targets, they said.
"People who disagree with the Kremlin are threatened," said Vladimir Ryzhkov, an opposition leader.
"If you fan hatred towards the opposition, vilifying it as a fifth column, you create an atmosphere which provokes political killings. Responsibility for this lies directly with Putin. Anyone with a different political view cannot feel safe in Russia today," he added.
And this from The Observer:
Nemtsov's murder robs Russia of an original, bold and distinctive critical voice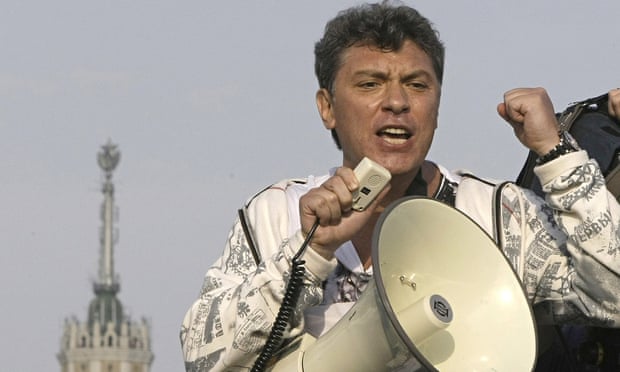 Hours before he was shot dead late on Friday night, just outside the Kremlin, Boris Nemtsov gave a radio interview. He was in good spirits. The radio station Echo of Moscow had invited him to talk about the latest opposition march he'd organised, due to take place today.
True, the authorities had predictably banished the protesters to Maryino, a grim suburb of Soviet-era high rises in the distant south-east. Nemtsov knew full well that the rally would never make it on to the night-time news, even if thousands turned up. He pointed out wryly that he hadn't been allowed to appear on Russian state TV for eight years.
Still, the rally was important and necessary, he said. It was an opportunity for Muscovites to show their opposition to Vladimir Putin. The march – dubbed "Spring" – was in part a protest against the Kremlin's mismanagement of the economy and its "dead-end" domestic politics, he said. It was an "anti-crisis" event.
Nemtsov said the current model, of giant state corporations run by incompetent bureaucrats, had failed. He wanted decentralisation. Some of the cash currently gobbled up by a greedy Moscow should be spread to the provinces. The government should spend less on war and more on healthcare. Much of Russiawas in a state of crumbling decay.
Nemtsov, however, was most outspoken over Putin's secret war in Ukraine. Crimea may have wanted to join Russia, he said, but the way the peninsula was annexed last year – with masked armed goons swarming over its parliament building – violated international law. There were no proper observers, he added.
It was in the 1990s that Nemtsov first came to prominence as the governor of Nizhny Novgorod. A reformist, a liberal, and a supporter of Boris Yeltsin, he rose to become deputy prime minister. It was during this era, Nemtsov said on Friday, that Moscow had guaranteed its neighbour's territorial integrity. In return, Ukraine had renounced nuclear weapons.
Nemtsov added that he had "documentary" proof that undercover Russian soldiers were fighting and dying in eastern Ukraine. It was this assertion – borne out by a steady flow of coffins returning in the dead of night from the war zone in Donetsk and Luhansk – that may have cost him his life. Nemtsov had written numerous pamphlets: singular pieces of truth-telling in a country mired in official lies. One of them, "Putin: A Reckoning" accused Russia's president and his circle of massive personal corruption.
According to his friend Ilya Yashin, Nemtsov was working on another explosive essay which would expose the role played by the regular Russian army in rebel-held Donbas. Last Saturday, police reportedly seized Nemtsov's computer hard drives. Sitting in the Echo of Moscow studio – charming as ever, checking his mobile phone during the ad breaks – he said that he would tell the truth, in contrast, he said, to Russia's president, whom he dubbed a "pathological liar".
It is an open question whether Nemstov's appalling murder was carried out by the state, or by shadowy nationalist forces connected to it. We will probably never know. Kremlin-controlled channels have already come up with numerous conspiracy theories. These are part of a cynical post-modern media strategy, perfected by Kremlin political technologists. Its goal is to confuse what's true with what's not, to the point that the truth vanishes. What it undeniable is that over the past year Putin has created an atmosphere of hysteria and hatred, driven by relentless imperial propaganda. State TV has portrayed the few brave liberals who have spoken out against the Kremlin's Ukraine war as American spies and fifth columnists. In his last interview, Nemtsov explained that he was a Russian patriot – but one who viewed the Russian flag as a "symbol of freedom" from Soviet tyranny.
Today, tens of thousands of mourners will gather at the spot where Nemtsov was gunned down. He was shot within touching distance of the Kremlin and the fantastical domes of St Basil's cathedral. For once, the authorities have granted the opposition permission to rally. His killers appear to have picked the location deliberately. The visual image – an opponent of Putin lying dead in the street, under the impersonal ochre walls of Russian power – tells its own chilling story.
Over the past decade Nemtsov had practically vanished from public life, as Putin squeezed out opposition parties. But he kept going. He was one of the last opposition politicians still genuinely active in Moscow. Some, like the former oligarch Mikhail Khodorkovsky, who spent a decade in a Siberian prison, are in exile. Others, such as the anti-corruption blogger Alexei Navalny are behind bars. (Navalny, already under house arrest, was due to take part in today's rally. He was preemptively detained.)
Nemtsov's murder robs Russia of an original, bold and distinctive critical voice, at a moment when Russia is morphing from semi-authoritarian state into classical dictatorship. It is an appalling act. Increasingly, the Putin regime seems reliant on mobster methods: shootings, assassinations, and hostage-taking, underpinned by a system of total corruption. Another key demand of today's planned rally was the release of political prisoners.
There is little prospect that Nemtsov's killers will ever be caught. The killers of other Kremlin critics who have mysteriously wound up dead are still at large. In London, a public inquiry is hearing evidence of how two Moscow assassins poisoned Alexander Litvinenko with radioactive polonium. It took three trips to Britain, and two attempts, to finish the job. The two alleged murderers, Andrei Lugovoi and Dmitry Kovtun, sit safely in Moscow.
Meanwhile, Putin's press spokesman Dmitry Peskov has described Nemtsov as scarcely more prominent than the average citizen. This belittling rhetoric is reminiscent of Putin's comments on the human rights activist Anna Politkovskayaafter she was shot dead in 2006. The president's statement that he will take the Nemtsov murder investigation under his personal control does not inspire confidence.
What, if anything, should the west do? Western sanctions over Ukraine have been largely ineffective. So far, however, the EU and US have been reluctant to impose personal sanctions and asset freezes on super-wealthy members of the Russian elite. Now is the moment to start. The list of Kremlin officials and their families banned from Europe should be widened.
In the meantime we should remember Boris Nemtsov, a brave and principled politician, who spoke truth to power and paid the ultimate price.